Now that we are all done drooling over the stunning nuptials of William and Kate, we can now look forward to the ripple effect the royal wedding will undeniably have on bridal trends for this summer. From dress fabrics to jewelry choices,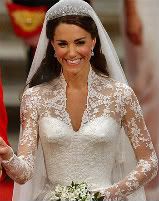 brides everywhere will long to look as timeless and iconic as the new Duchess of Cambridge. However, some general spring/summer trends are still running strong and will surely overflow onto the bridal runways as well. Here is your complete summer wedding fashion forecast.
Less skin is more
Designers Carolina Herrera, Reem Acra, and Vera Wang among others have been featuring high necklines and modest silhouettes in the spirit of Kate's long-sleeve gown. This sweet and demure look is afforded a little drama with bold lace and applique. Lace itself will undoubtedly be huge on the bridal runways this summer after taking center stage in notable spring fashion shows.
Sapphire blue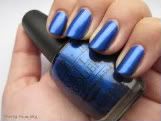 While many brides tend to hide their "something blue," the royal engagement ring with its breathtaking sapphire rock has made brides-to-be salivating for one of their own. Rest assured that bridal jewelry trends will incorporate intense blues to serve as that perfect pop of color.
For those off-beat brides who aren't afraid of a little color, a great alternative to sapphire jewelry is sapphire blue nails! OPI's "Blue My Mind" or the aptly titled "Dating A Royal" will definitely evoke the beautiful impact of sapphires.
50s throwbacks
While many popular designers are evoking the powerfully sexy looks of the 70s, bridal designers such as Oscar de la Renta and Kenneth Pool have been looking to the 50s for fashion inspiration. Fur trims and statement stoles will definitely be hot items in bridal. The great thing about 50s inspiration is that you can add hints here and there or go all the way with it and still look absolutely gorgeous. For those interested in a full 50s look, go with a bold red-orange nail color like Essie's "Silken Cord."