I don't know about you, but I am ready for summer! I know, I know, it is only April—spring has barely sprung- but all of this sunshine during the past week and a half in the Bay Area has really got me ready to grab my sandals, beach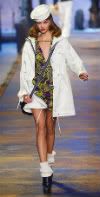 towels, and extra bottles of SPF 15! At least I'm not the only one with summer on my mind. Along with all you other beach-goers, designers such as Dior and Dolce and Gabbanna have taken a trip to the South Pacific with their spring collections featuring vibrant tropical colors, exotic prints, and even sailing gear. Summer fashion has really set sail and this year has included very retro inspired (think Elvis~ Blue Hawaii) loud, tropical designs, jeans, and 1950s inspired, ultra girly, yet very sexy dresses.
These intense colors and designs may seem like they would be hard to wear, but fear not! Designers are making summer's tropical fashion a breeze.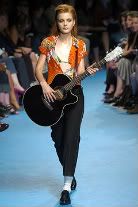 Here's how:
Wear it with a neutral: To give your color extra pop, make the rest of your outfit simple. Black, navy and gray are good choices, but to keep your look bright try khaki, cream, or white. For a good example take a look at both Dior and D&G!
Keep your makeup fresh (but go crazy with your nails): If you are already sporting bright colors, you don't need to wear bright makeup on your face. Keep your makeup neutral or at least simple and your bright colors will go further.
Let your colors speak for themselves. When you sport tropical hues there is no need for ribbons, bows, etc. Colors are all the accessories that you'll need.
It's about the

Attitude

: when you wear bright bold colors you stand out… they are like a flag waving and screaming, "Hey, look at me!" Wearing bright colors are going to bring you more attention, so you have to bring the attitude to match!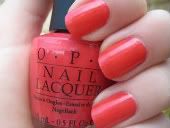 I know that this spurt of warm weather in the Bay Area isn't going to last (as we speak a chilly wind is blowing in some big clouds—it is still early spring after all). So if you can't put your sarong on quite yet, you can at least create your own tropical temperatures by painting your digits in sizzling colors. For a great way to break out of winter, take our recommendations: Pretty Edgy by Essie, a lush tropical green that you can wear anywhere and Cajun Shrimp by OPI, a fiery sunset orange.