Maybe it says something about my personality, but I love animal print. It's definitely fun. It's sexy. It's bold. I especially love that it is alive and roaring in the fashion world. I'm a leopard-print girl and I can finally bring my favorite leopard print pieces out and wear them with pride again as the end of 2010 and the beginning of 2011 has brought a revival of plush, luxurious and animal inspired fabrics and designs. If you're like me, and I know you fashionistas are, I know what you're thinking… you've already caged that animal once so what is the point of letting loose your favorite pieces that are as we speak left hanging in the deep, dark corners of your closest? Well, it's time to let those animals out because going wild has never been so fun. As Style.com comments, "Animal print is not a trend. It's a fashion staple. It's not tacky, unless you have no idea how to wear it." Let me repeat… YES it is a FASHION STAPLE. With that being said, where do we start? Which piece? Where do I go! Oh, no, it's almost too much for me to handle!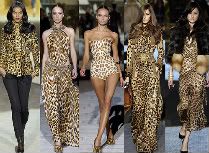 Luckily for me, this year there's no need to hold back! Designers such as Chloe, Missoni, and Givenchy as well as celebrities have been spotted indulging in prints and furs, literally layering colors, textures, and even animals! Wearing animal from head to toe, mixing different spots has never flown…run… or prowled in the past… but now it's très chic. Mixing faux fur with python…well… let's just say it won't be a fashion furrrr pas!
Another fascinating twist for this spring: add a little spring-time pastel or flower power with your spots for another modern twist to the classic animal. What could be better than your cheetah print dress for this spring than with the added dash of a pastel pink, blue or a soft yellow to freshen up your look! Just look at how cute the  Blumarine outfit is! Pink and print! I think I'm in heaven!

A great way to enhance your animal fashion is, of course, to stop by your neighborhood Pinkies salons for a mani and pedi! Pastels are Posh!  We recommend Mint Candy Apple and Lilacism by Essie, as well as Heart Throb by OPI. Or, depending on how wild you're feeling, you can add a little extra animal on your claws with a design by any of our talented technicians!